The company surveyed iPhone owners and discovered that for the 12 months ending this past March, 15% of them had an Android phone immediately before buying their iPhone. That was the highest number of Android switchers who owned an iPhone since the survey that ended in March 2018 when a similar 15% made the switch from Android to iOS. The survey conducted before that one, covering the year that ended in March 2017, revealed that 16% of iPhone owners at that time had an Android handset before buying their iPhone units.
The survey conducted in March 2016 showed that 21% of iPhone owners at that time had an Android handset immediately before switching to the iPhone. That is the highest rate of switchers over the nine years of data presented by CIRP.
The latest survey covering the year to March 2023 shows that in addition to the 15% of iPhone users whose previous handset was an Android phone, 2% switched to the iPhone from a basic phone, came to the iPhone from a device in the "other" category, or were first-time phone buyers. 83% of iPhone owners in the most recent survey already owned an iPhone when buying their new iOS-powered smartphone.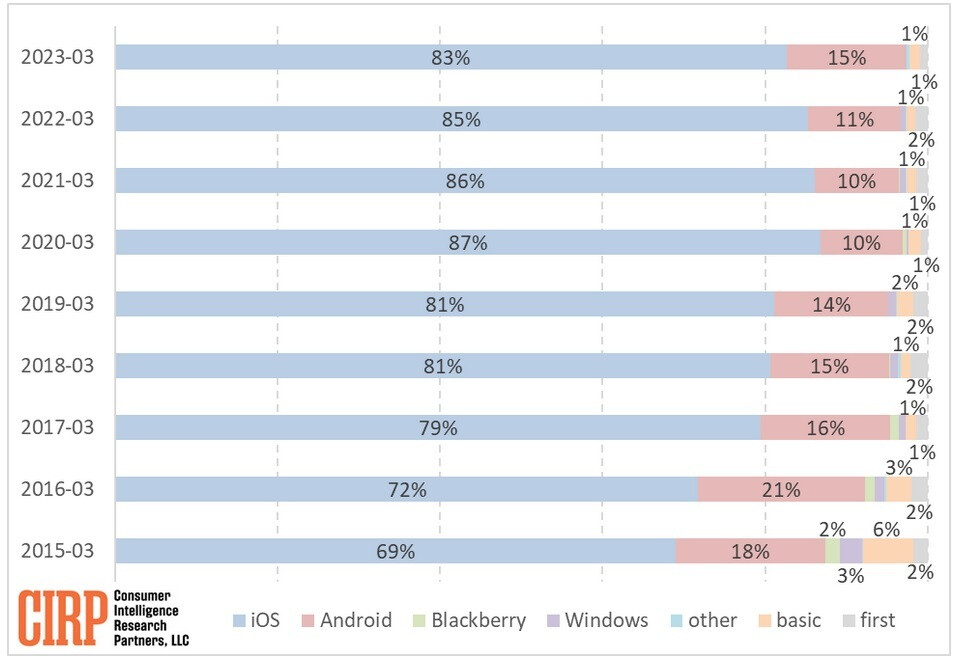 For the year ended in March, Android users switched to the iPhone at the highest rate since 2018
If there is a number in this survey that might be disappointing to Apple, it would be the low percentage of first-time phone buyers who made the iPhone their initial handset purchase. That could have to do with the price or the concern that buying an iPhone would leave them with a device that would be too complicated for them to use.