Trying to make a call over the Verizon wireless network? If you are calling into or out of certain areas of the U.S., you are probably not going to get through. And the go-to site for outages, DownDetector.com, is showing a big jump in complaints over the last few minutes to 827 from 139 just 30 minutes ago. In fact, when we first noticed issues at Verizon, the DownDetector site did not list the nation's largest carrier as having problems. That has changed.
DownDetector now says, "User reports indicate problems at Verizon." 51% say that their issue with the firm has to do with their mobile phones, 27% complain that they are not able to get a signal, and 22% report a problem with the mobile internet. Frankly, it all adds up to a 100% problem with Verizon's wireless service. And as the nation's largest wireless provider, you know that this outage is having a major impact on consumers in the U.S.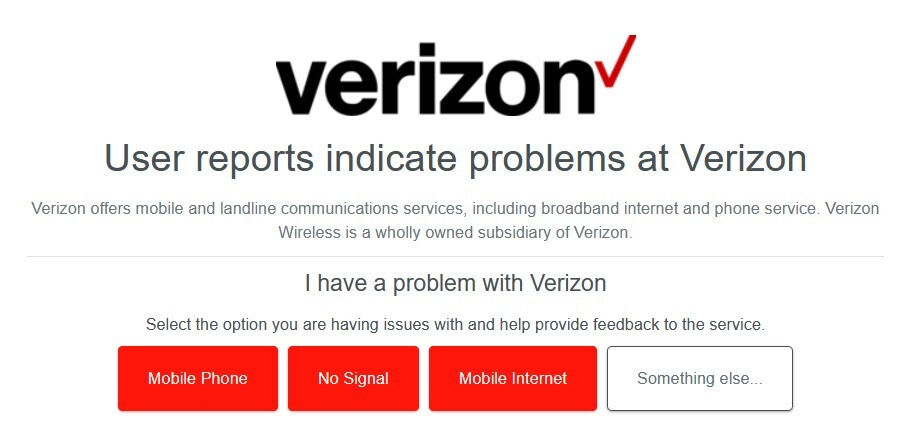 Verizon is experiencing an outage this morning
Based on the map at DownDetector, it appears that Verizon is down in major cities like Boston, New York, Washington D.C., Atlanta, Chicago, Detroit, and Seattle. Text messages appear to be going through and this was seconded by a Verizon subscriber who just posted, "My 2 Verizon cell phones have no voice service as of 12:00 PM today…but text messages seem to be working."
The Verizon Support Twitter page has no mention of the outage and the only tweet mentions that since it is the last day of March, Verizon customers are running out of time to claim their Verizon Up rewards for the month.
This is a developing story and will be updated so check back often.