WhatsApp, the popular instant messaging app, has released a new beta version for Android – version 2.23.10.13. This latest update brings several new features and improvements to the app, including the ability to edit sent messages for some select users.
The key feature rolling out with this update would allow users to edit messages they have already sent. This feature has been highly requested by WhatsApp users for some time, as it would give them the ability to correct mistakes or clarify unclear messages that were perhaps sent accidentally.
As reported by WABetaInfo, the feature works by allowing users to tap on a sent message and select the "Edit" option from the top menu. They could then make changes to the message, and the edited version would be visible to all recipients of the original message.
However, there are some limitations to the feature – edited messages will still show a notification that they have been edited, and there will be a limit on how much time users have to edit their messages after they have been sent. The current time limit to edit a message is within 15 minutes of sending it and you cannot edit a message that you sent from a different device. Once edited, the message will show an "edited" label on it to notify other users that the message is no longer the original one.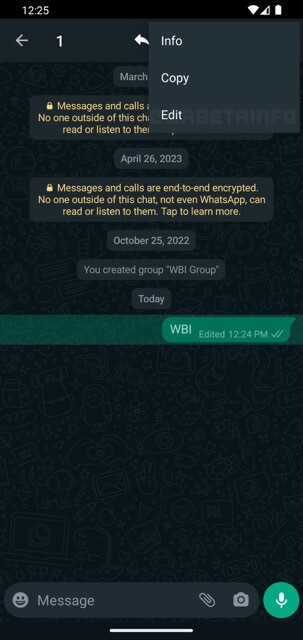 Image Source – WABetaInfo
Not all users enrolled in the WhatsApp Beta Program are currently able to test this feature, as it appears to be rolling out to only a certain amount of users, suggesting a staged rollout. Hopefully this won't take long to roll out to the stable version of WhatsApp, as I anticipate it would likely be welcomed by many users. However, it remains to be seen if and when the feature will become widely available to all.